We are Help for Heroes, one of the UK's leading Armed Forces and veterans charities. Thanks to you, we are able to give veterans and their families one less battle to fight.
When you join the Armed Forces, you're trained to push your mind and body to the limit. You're placed in the most dangerous and difficult of situations; possibly risking your life to keep others safe. But what can be even harder, is life after the military. For that there's no training.
Imagine losing your job, home, identity, way of life, and a support network that's like your family. Almost overnight. Now imagine all of that, while trying to cope with serious physical pain and mental trauma. That's what life looks like for many veterans. Some have lost their limbs, their eyesight, suffered severe brain injury, or are now paralysed. For many, this is when the real battle begins.

At that moment, the civilian world is scary and confusing. Just when you need them more than ever, you've no longer got your mates around you. People you trusted your life with.
The response – to shut yourself off from the world. Not knowing where to turn for support. At Help for Heroes, we make sure veterans are not alone.
Thanks to your kindness, our counsellors are on hand to help unpick the mental trauma of sights they've seen and dangers they've faced, maybe years or even decades earlier.

We have specialist teams who help people improve their physical health and fitness. Community activities like our Choir bring veterans and families together, helping to combat loneliness and isolation.
The conflicts may be over. And the wars veterans are now facing don't make the headlines. But we haven't forgotten them. And we're heartened to know that supporters like you haven't forgotten about our veterans either.
With your support, we're still changing and saving heroes' lives.
We support all veterans no matter when, where or how long they served.
Whether or not their injuries or illnesses are a direct result of their military service.
Wherever they live in the UK.
Whether they were a regular or a reservist.
Serving personnel who are in the medical discharge process to ensure continuity of care.
Anyone who worked alongside the military, such as interpreters who served on the frontline in Afghanistan or war correspondents.
The families of all the above.
4
the number of people medically discharged from the UK Armed Forces every day
85%
of veterans struggle with their mental health every day.
78%
of veterans struggle with long-term pain that affects their ability to live.
60%
of family members of veterans and serving personnel with long-term health conditions need support.
80%
of veterans and serving personnel rely on the support of loved ones or charities.
320,000+
veterans are often or always lonely.
Source: MOD 2021/22
Source: Help for Heroes Annual Veterans and Families Survey 2022, which surveyed veterans and serving personnel with a long-term health condition i.e., expected to last for more than 12 months, and their families. There were 810 respondents to the survey.
Source: Help for Heroes Annual Veterans and Families Survey 2021
YouGov Plc research into mental health and suicide in the GB adult population and the Armed Forces Community. July 2022, total sample size of 8346 adults.
Chloe's story
After leaving the Armed Forces because of bullying and complex PTSD, civilian life soon became tough for Chloe, an Army veteran of 22 years.
'HELP FOR HEROES MADE ME FEEL THAT LIFE IS WORTH LIVING AGAIN.'
Chloe experienced depression and sensory overload. Her father then passed away and she split from her partner.
"I struggled to get out of bed. I didn't want to shower or leave the house.
"I felt worthless and lost all my self-confidence. I was alone in the world with no family. My closest friends lived on the other side of the world or were still serving.
"I was suicidal and didn't know where to turn. I needed help. So, I called Help for Heroes, and I'm so glad I did.
"I was assigned a case manager and referred to the Hidden Wounds team for mental health support. My psychologist was amazing. As was the support from my case manager Jock, and my clinical lead, Fletch, who helps with my physical healthcare. They made regular calls to check in on me.
"Their weekly virtual get togethers have given me a social life. I've enjoyed walks, kayaking, archery and segway sessions, which were hilarious. We went to rugby games in Edinburgh. That all built up my confidence and social skills again.
"I did all the Recovery College courses, such as Nutrition and Mind, Mood and Body. They helped me understand me and where I was at.
"This Charity has given me my life back and helped me believe in myself again. It's given me the support and strength to move forward and carry on living."
What we've achieved together
Our year in numbers.
3,481
veterans and their families received support from the Charity
244
Recovery College sessions delivered, covering a wide range of topics, including pain and anger management, anxiety, depression, money, and sleep troubles.
98%
of people who took one of the courses and completed a survey would recommend the course to others.
1,195
sporting, recreational, and social activities held to fight loneliness and isolation, and improve the wellbeing of veterans and their families.
1,311
people supported on their physical health recovery journey by our expert team of clinicians, including nurses, occupational therapists, counsellors and medical advisers.
376
grants issued to pay for specialist equipment or home modifications to make life easier for veterans with an illness or disability.
175
Afghan civilians who worked with the UK military, supported after fleeing the Taliban.
1,130
veterans and family members supported by our mental health service, Hidden Wounds.
£28k
paid out in cost-of-living support to help those finding it difficult to pay for food or to heat their homes.
OUR SUCCESSES MONTH BY MONTH
November 2021
Last year saw the return of our flagship Pathfinder experience.

Through a variety of in-person workshops and activities the course gives veterans the skills and confidence to take control of their lives and build positive futures.

There's a focus on mental and physical health, wellbeing, and self-awareness.

It includes two days spent outside completing a task as a group, providing the opportunity for teamwork, fresh air, and reflection.

We ran five Pathfinder courses in 2021/22.

A veteran said: "Out of everything I've done previously, the Pathfinder has been pivotal in moving me onto the next phase of my recovery."
January 2022
We launched a Suicide Awareness and Self-Help project in response to an increase in the number of veterans telling us they've felt suicidal. The aim was to get life-saving training out to veterans and those around them, to create suicide safer communities.
We developed a free 30-minute online course, in partnership with Zero Suicide Alliance (ZSA). Within nine months of its launch, it had been accessed 3,179 times.
Following the project's soft launch in January, there was a publicity campaign called Read Between the Lines in September. The name of the campaign was a reflection of the need to dig a bit deeper to find out how people are really feeling.
JUNE 2022
An army of 333 dedicated volunteers took to their collecting stations at 270 Tesco stores for our annual national collection weekend, raising a staggering £144,000.
The Charity's iconic fundraising event, the Big Battlefield Bike Ride, was back after a two-year break. A total of 130 cyclists took on the five-day challenge across northern France, raising more than £500,000.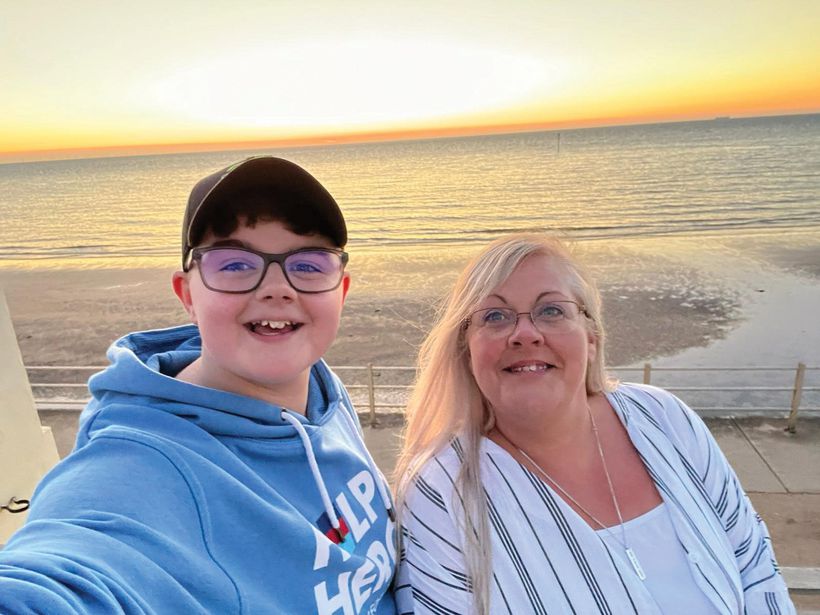 August 2022
We made it easier for veterans and families to get support by simplifying our digital 'Ask for Help' form. Upon completing this form, we now send people self-help content so they can start their recovery journey. We also launched a new website, and strived to improve the user journey with content that's relevant and easy to understand.
September 2022
We became one of the first charities to be awarded a quality kite mark for the high standard of care and support the Hidden Wounds team provides. The Quality Network for Veterans Mental Health Services was set up in 2020 by the Royal College of Psychiatrists. We were judged to be hitting 100 per cent of all the 120 service areas we were assessed on, including wait times and accessibility of our services.
Throughout the year
We supported 28 of the country's most seriously injured veterans. They are the 'unexpected survivors' of war. Some are paralysed, some have severe brain injuries. Some have lost limbs. Some have lost their eyesight. Thanks to your support, we're making sure these veterans get essential round-the-clock care every day. They will need this support for the rest of their lives.
Calling for change
As well as providing lifechanging services we lobby governments and other decision makers, calling on them to do better by veterans and their families.
It's an injustice that people continue to be treated unfairly by the country they risked everything for.
Thanks to our campaigning, the Armed Forces Covenant now places a legal obligation on local authorities to make sure veterans aren't disadvantaged when accessing public services, such as housing, healthcare and education.
We also ensure that the Government remains committed to reviewing how effective the implementation of the Covenant is and we will continue to build the case for further improvements.
We've helped create guidance for local councils to make sure they know how they can and should be meeting the aims of the Covenant.
Last year we supported 175 Afghan civilians who worked alongside the British military.
They worked in roles such as interpreters and cultural advisors, often on the front line with UK troops, providing crucial information that saved lives.
As the Taliban were seizing power, their lives were in grave danger because of their service to the British military. The Ministry of Defence got some of them to the UK through a resettlement scheme.
Often they arrived with only the clothes on their backs. Thousands of miles from home, penniless, jobless, and in a state of shock, their lives were turned upside down.
Many have sustained injuries from bomb blasts, lived underground in fear of the Taliban, and now suffer extreme PTSD and nightmares.
John's story
Giving a veteran freedom again.
We provided Army veteran John with an automatic front door, so he can leave his house on his own.
John has multiple sclerosis and is dependent on a wheelchair to get around. He needs the support of others to do some of the most basic of daily tasks, including eating.
"Having spent so much time indoors unable to go out, unless someone let me out, felt like being in prison. I now have freedom again. That's euphoric.
"My support dog Casper and I sometimes get the bus into town. Or we'll go to the park. I throw the ball and Casper chases after it. He'll bring it back all slobbery, but I don't care one bit. It's wonderful being out in the fresh air. I visit friends and family and go to appointments on my own.
"I love having my independence again."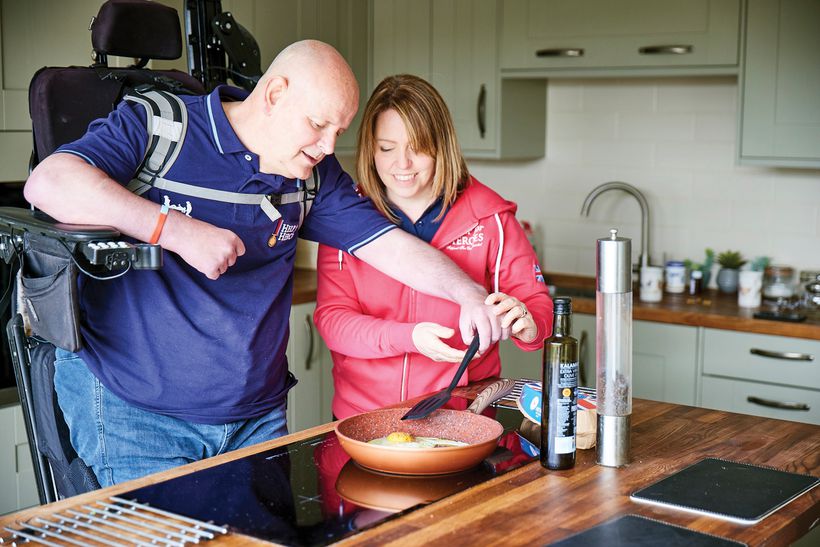 That's all thanks to your support
Your generosity has also made it possible for John and his partner Claire to go on our free sporting and recreational activities.
Claire said: "John's disease is getting worse. We need to find every moment possible to make the most of life now.
"The Help for Heroes team has changed our lives by offering us the opportunity to get out of the house and make memories; giving John a sense of purpose and a reason to fight his deteriorating health.
"Some might be misled into thinking these are 'just activities' but to us and others, they're a lifeline.
"The quality of activities we've been involved with, cooking workshops, outdoor sports, fishing trips, visits to places of interest and craft workshops have been second to none and make us feel that some luck comes from our difficult situation.
"Despite our challenges we feel valued and live a quality, fulfilled life because of these Help for Heroes activities."
We can't do this without you
Thanks to our generous supporters – our donors, fundraisers, partners, grant funders and volunteers – our veterans and families continue to receive world-class support.
It covers many areas of an individual's life, and it's carefully tailored to anyone and everyone who needs it. This level of personalised support isn't available in one place anywhere else.
AND IT'S MAKING A HUGE DIFFERENCE
With your kindness and our understanding of the veteran community, together we're able to create innovative solutions to very real and serious problems, such as isolation, veteran suicide, pain, mental trauma, unemployment and poverty.
These solutions are drastically improving the lives of veterans and their families. People who risked so much to keep us safe.
But please don't let up. The mission is far from over. Thousands of veterans and their families are today in desperate need of support.
Together we can be here for our heroes, for as long as they need us.
OUR AMBITIONS
To continue to help members of the Armed Forces community live well after service, our focus in 2022/23 is to:
Ensure our support services are responding to unmet need, and that they help veterans and families manage their physical and mental health, and welfare issues.
Improve knowledge and understanding within the community we support, so that people can manage their situation and live independently.
Work collaboratively with partner organisations so people we serve have the best possible support services, and to avoid duplication of effort and resources within the sector.
Make it easier for people to get the help they need, by improving access to our services.
Improve awareness of the support we offer.
Reduce stigma within the Armed Forces community around asking for help.
Continue to tackle loneliness and isolation among veterans and their families, by helping people make positive connections in their local communities.
Will you help us continue our life-changing work?