Richard Sharpe, 50, joined the Royal Engineers in 1991, aged 18 and served in a number of the Corps Regiments across the UK and Germany. In 2002, Richard was posted to the Royal School of Military Engineering in Chatham where he met fellow comrade Mark Reed.

The pair served together in Afghanistan, on Operation Herrick 10. On their return, Mark retired from the Army and took up employment at Help for Heroes as an Activity and Wellbeing Practitioner, and the pair lost touch.
Reunited
A few years later, struggling to walk, as a result of injuries sustained in service, Richard attended one of our local veterans coffee mornings. To both their surprise, it was Mark who was running the event. The pair, once comrades on the battlefield, were reunited and Mark has been by Richard's side, assisting him to get the support he needs to get back on his feet - both physically and mentally, after the amputation of his right leg.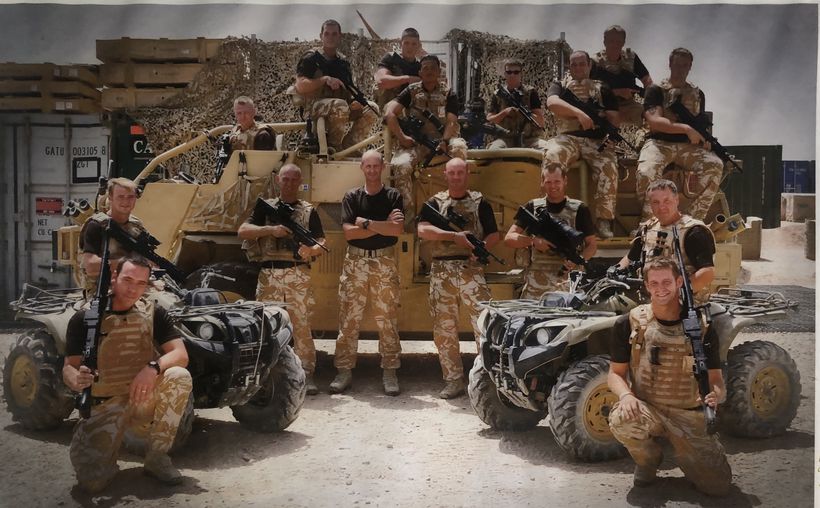 "After serving for 24 years, I left the army and after a while became withdrawn and isolated. I was dealing with insufferable pain in my legs and feet caused by injuries sustained during service. Noting that I was avoiding social situations, a friend suggested I join him at a coffee morning with other veterans. I agreed, went along and was amazed when I saw Mark stood there." Said Richard.
Remembrance
Richard will be one of 50 veterans, carers, and staff from the Charity, who will commemorate the service and sacrifice of all those who have served in the military at the Cenotaph march-past on Remembrance Sunday (12 November) in London.

"Service men and women remember their fallen comrades every day, but Remembrance has particular significance where as a nation, we stop and remember not just those who have died, but those who continue to deal with the aftermath of war on their lives. I watch the parade every year on tv, but to be part of the march-past will be humbling."

Comrade, and Activity and Wellbeing Practitioner, Mark Reed said: "Being Welsh boys in the same Troop, Squadron, Regiment meant we had a connection from the start. We would chat about home, rugby and so on.

"It was great to catch up with Richie after leaving the Army. Seeing how far he has come since 2019 is an inspiration to me and I can't speak highly enough of his determination over the last four years."