A veteran gave one of our volunteers his Invictus Games shirt as a special thank you for the support that persuaded him to keep going. Without Paula's kind words of encouragement, veteran Tony says he wouldn't have made it to the prestigious sporting event.
He was so grateful for the life-changing chat, that he gave Paula a keep's sake she will cherish forever – a top he wore while competing at the Games in The Hague.
'Without you, I would not be here today'
After volunteering for Help for Heroes at a rowing competition in Horse Guards Parade in 2011, Paula said her 'world has never been the same'. She has since given up so much of her time to support veterans and their families.
One of the many occasions Paula has kindly helped us was at one of our free sporting events. These give veterans and their families the chance to meet others from a similar background and take part in an activity.
Paula takes up the story: "I saw a guy who looked unhappy. It looked like he was about to leave. So, I sidled over and asked, 'Alright then?' We had a chat, and he got a bit upset and told me what was going on. I asked him to stay and try it out. I said he had nothing to lose and much to gain.

"A few months later I was volunteering at the Team UK Invictus Games trials in Sheffield, and I saw him. He said, 'The only reason I'm here is because of your support'. During Covid, I had to shield so it was a big deal to go out to cheer on the team at The Hague in the Netherlands.

"I looked for this chap and I spotted him in the stand. So, I tapped him on the shoulder and was about to say, 'I don't know if you remember me…?' when he turned around and we both welled up, followed by hugs.
"He thanked me for having helped get him to the Invictus Games. He said he was competing and having a great time with his family. He asked if he could give me his Invictus Games competitor's shirt and I said it would be my absolute honour. It had a wonderful message on it, which said, 'Without you I would not be here today, thank you - Tony.'"
Changing lives
"As volunteers we have all changed somebody's world. The Charity is dealing with incredibly important issues, life-changing moments for many people and we want to make their lives better.
"We may be veterans' first contact with the Charity, and we can have a 'sixth sense' of who may be in need of support. They may not reach out that day, sometimes it takes years. Sadly, I'm not in a financial position to regularly donate, but I do have some spare time.
"I volunteer because I believe in what Help for Heroes stands for and have seen how it changes lives for the better.
"My grandfather and father both served, and I've always been a strong supporter of our Armed Forces community. When I was four my maternal grandfather died, way before his time, and I believe some of his struggles stem back to his military service. Also, one of my nephews was an Army medic and he deployed to Iraq and Afghanistan. I've made some fantastic friends who are veterans and for that I feel privileged."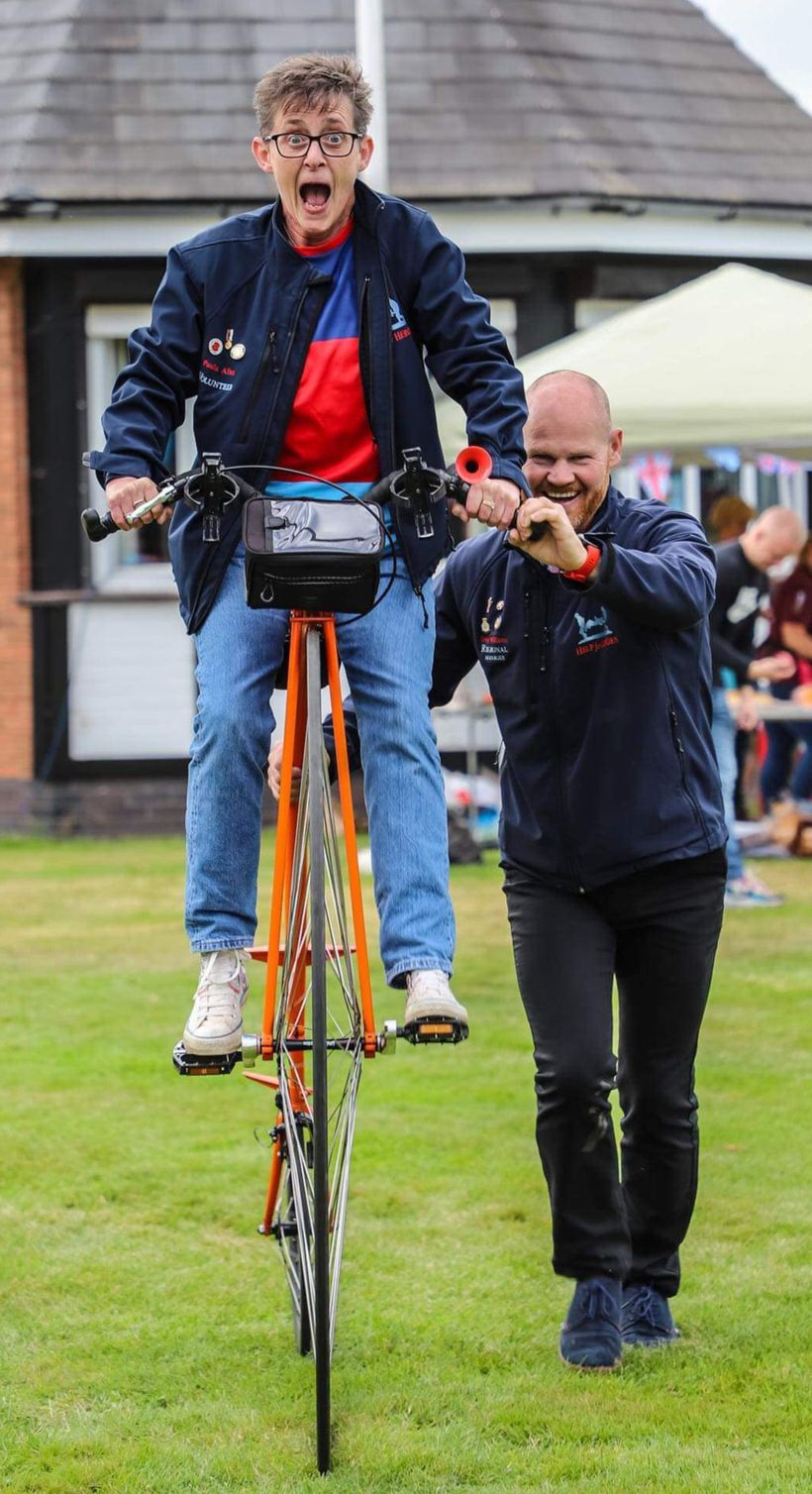 'We do make a difference'
"We once had a stall promoting Help for Heroes at a stately home when a lady came over and told us that she had one son serving in Afghanistan and another in Iraq. I just can't imagine how you would deal with that as a person let alone a parent. I simply asked, 'And how are you?'. She just collapsed in tears and said, 'No one ever asks about me'.
"We sat her down, gave her a cup of tea and she shared her feelings with us. We do make a difference."
'I was ready to quit'

Veteran Tony will always remember the chat he had with Paula and the difference it made.
Getting back into sport through the Charity was a big part of his recovery, following medical discharge from the Army due to a bad knee injury and poor mental health.
If it wasn't for Paula, he might have walked away from sport for good.

He said: "I hit a really low point and I was about to walk away. Paula came after me and spent so much time talking to me, listening to me and picking me back up. I was ready to quit and never get involved again with any sport recovery. But the time Paula spent with me just listening helped me so much and set me up to move onto the Invictus games. Without Paula I would probably still be in such a bad place.

"Paula is an incredible person and Help for Heroes is so lucky to have volunteers such as Paula."