A former soldier in the United Kingdom Special Forces Reserve, Jamie Hull was fulfilling a lifelong ambition of becoming a pilot in 2007. Out on a routine solo flight, his engine suddenly caught fire. With his plane rapidly descending, Jamie freed himself from the cockpit and clambered onto the wing, where he remained until the aircraft was only 15 feet from the ground, before jumping to safety.
Jamie sustained 60 per cent third-degree burns to his body, tissue scarring and internal injuries. He was given only a five per cent chance of survival. Undergoing over 50 operations, he was able to pull through but, for Jamie, life as he knew it was over: "I couldn't see a life beyond injury, I couldn't see that road ahead. Physically, I felt I was done for."
Jamie struggled with the pain and depression his injury brought him as he tried to come to terms with what felt like a whole new body: "I tried to accept it, but I felt like I had bitterly failed in life as a result of my accident. I couldn't see a future."
Joining the Help for Heroes Band of Brothers fellowship network in 2011 gave Jamie the platform he needed to turn his life around: "I had lost all belief in myself. Help for Heroes stepped in and provided opportunities that let me challenge myself in a safe, supportive and dignified environment. It was exactly what I needed."
Jamie accessed support through Help for Heroes' Sports Recovery Programme, including travelling to Utah for a training course designed to boost confidence: "It was fantastic, I got to pilot a bobsled down the Olympic run. That made me realise I still had potential and could move forward."
Since receiving further support through the Charity, Jamie has gone on to achieve some extraordinary feats. He competed at the inaugural Invictus Games in 2014 and has taken part in intensive winter sports training in Vancouver, which included Nordic skiing and ice sledge hockey.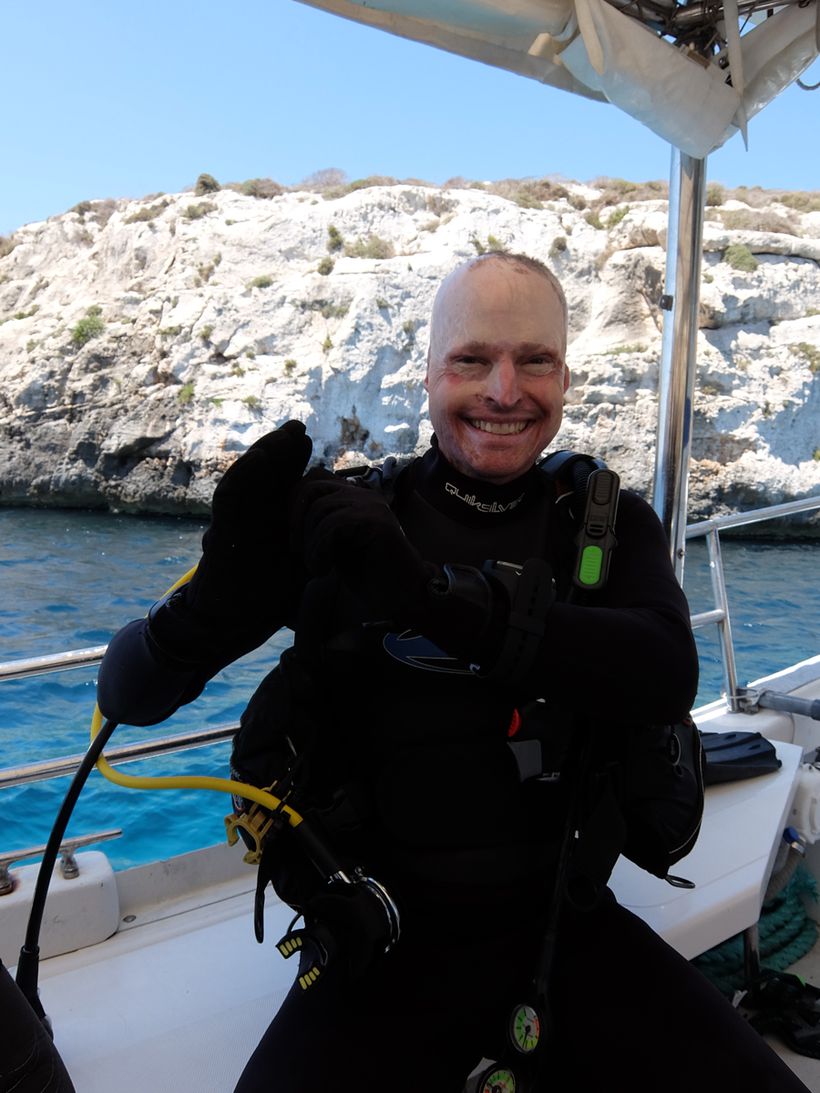 The Charity has also helped him qualify as a UK Mountain Leader and scuba diving instructor. Both qualifications have allowed Jamie to teach wounded Veterans mountaineering and scuba-diving skills: "Being given the opportunity to do that is very rewarding. I get to work with some very motivated individuals and enhance their physical and mental development. It's a joy."
As a Band of Brother, and a regular visitor to the Help for Heroes Recovery Centre in Tidworth, Tedworth House, Jamie has been able to experience the benefits of being around other like-minded Servicemen and women on their recovery journeys: "It's absolutely amazing having that camaraderie back. We're all working towards a common cause. It helps you focus outside of yourself. My family has seen me grow and develop into a better, wiser man from the support I've received."
It was with fellow Band of Brothers that Jamie took on the Race Across America. Completing the 3,000 mile ride in seven days has been one of a number of challenges he has taken part in, raising thousands of pounds for Help for Heroes.
Jamie is now one of the Charities Ambassadors, helping to raise awareness of their work across the country. Looking ahead to the future he hopes to keep challenging himself, knowing he's giving all he's got to live the best life he can: "When I cast my memory back to being laid up in the hospital I would never have dreamt I'd be where I am now. Help for Heroes introduced me to new aspects of life. It opened my eyes and broadened my horizons. It showed me there is life beyond injury."
Jamie has also launched a book, Life on a Thread, about how he fought back from the brink of death, and created a new and profoundly meaningful life from the wreckage of his experience. He says, "I wrote the book after receiving a great deal of encouragement from my speaking events. But above all, I believe that people can take strength from my story when faced with their own challenges and adversity in life."