Derek Derenalagi was serving with the Worcestershire Sherwood Foresters Regiment in Helmand Province in July 2007 when the vehicle he was out on patrol in triggered a roadside bomb.
Filled with hundreds of ball bearings, nails and metal, the explosion hurled Derek 30 yards through the air, where he landed on rocks. His left leg was blown off and his right was hanging by a thread of flesh and bone. Evacuated back to Camp Bastion, he was pronounced dead and medical staff were preparing to put him in a body bag until one of them detected a faint pulse.
Operated on and flown back to the UK, Derek miraculously pulled through and spent the next two weeks in an induced coma. When he woke up, his wife, Ana, was by his bedside. Feeling unable to tell her husband the true extent of his injuries, Ana had to take picture and say, "This is you now, Derek". Derek was shocked, saying: "I couldn't believe it because I could feel that I still had my boots on and my feet were very warm."
Despite the devastating loss of both his legs, Derek refused to let his disability get in the way of what he could achieve. When the Ministry of Defence launched its Battle Back programme in 2008, supported by Help for Heroes, to encourage wounded Servicemen and women to use sport in their rehabilitation, Derek jumped at the chance. Sport had been a major part of his life, particularly rugby, and the support from Help for Heroes enabled him to get active again.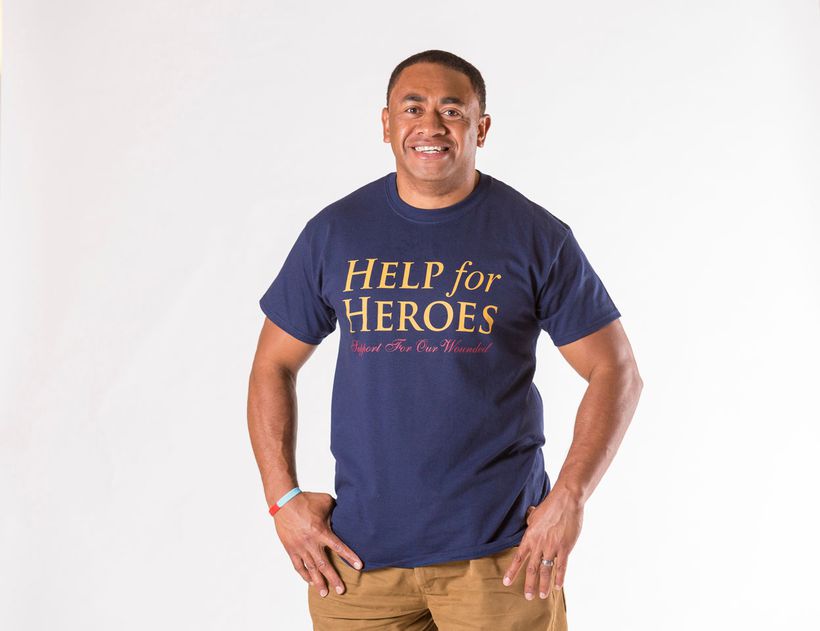 One of the first soldiers to get support from the Charity, Derek tried his hand at track and field sports and went on to set two British records in the shot put and win gold in the F57/58 discus at the IPC Athletics European Championships. He also competed at the 2012 Paralympic Games in London in discus, an amazing turnaround in the five years since his injury.
Derek says: "The support I received from Help for Heroes was massive, not only for me but for my family. I cannot thank the Charity enough for the amount they've done.
"Help for Heroes funded the legs that I used at the Paralympics and have made a lot of difference to my sport as an athlete. It's a fantastic charity, I'm just thankful."
A proud member of our Band of Brothers fellowship, Derek also works as an inspirational speaker, where he talks about his experiences of overcoming adversity and achieving new goals. As well as this, he is one of our Ambassadors, helping to raise awareness of its work so the Charity can continue to provide lifelong support to wounded Service Personnel, Veterans and their loved ones.

Derek says: "I think it's very, very important for people to support Help for Heroes. Most of us wounded Servicemen and women tend to draw back and not take opportunities that are there because of what we went through. But that's when Help for Heroes comes in and helps us to go through the transition as a wounded Serviceman or woman getting back into a normal life again.
"I believe the support that the public gives is massive because of what it's done for people like me. I just want to encourage people to give more and support Help for Heroes, not only today but for the rest of their lives."