757, 805 people served as Regulars in the British Armed Forces between 1991 and 2014. Thanks to published research from King's College London and Help for Heroes we now know that at least 66,090 of these needed our support either then, now, or will in the future.

Put simply, that means 1 in 11 will need a helping hand.
We believe it is essential that these brave men and women know how to get support, if and when they need it. Alongside the Government, Great British businesses and other charities we are committed to working together to rebuild lives.
Keep reading to learn more about our 2015 campaign showcasing the Heroes behind the tattoos who represent the thousands more who need our help.
The images were taken by Roger Keller. They told our Heroes' stories through their tattoos. Each image told a tale of sacrifice, bravery, love and determination – and the sheer refusal to quit. It is clear to see that experiences behind these tattoos went deeper than the ink they're drawn with. Each image also represents the many thousands more who will need our help, either now or in the future.
Tattoos - Behind the scenes
Roger Keller is the man behind the amazing new collection of images, 'Together, Rebuilding Lives' – a photo series that uses body art to express some of the psychological challenges Veterans, Service Personnel and their loved ones face.

As a photographer, Roger's clients include the likes of Adidas, Jaguar, MTV, The Sunday Times Magazine and Ralph Lauren. Despite his busy schedule, over the past four years he has freely given his time, expertise and talent to photograph the brave men and women supported by Help for Heroes.
In 2015, Roger was approached by Alex Hodges at Help for Heroes who asked him to collaborate with her on a project to illustrate the psychological effects of service. Alex explains why Roger was the perfect man to work with: "Roger is incredibly talented and clearly loves what he does. It makes a huge difference that he's genuinely passionate about 'the blokes' and telling their stories through photography. "
In September, after months of planning by Roger and Alex, nine Help for Heroes beneficiaries visited the Charity's recovery centres in Tidworth and Catterick to take part in the 'Together, Rebuilding Lives' photoshoot.
The collection is incredibly powerful and the tales behind the tattoos speak of bravery, sacrifice and the power of hope. Here Roger and Alex tell us more about the project.
The thinking behind it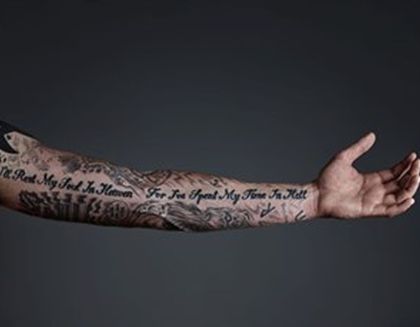 Where did the idea to use tattoos for the Rebuilding Lives Campaign come from?
Alex: I was keen to find a way to visualise psychological struggles that still maintained the strength and pride of the military – too often images associated with mental health imply weakness or helplessness. At Help for Heroes we want to empower those in need of help to come forward, so that we can support them to live beyond injury, be it physical or psychological.
We needed imagery that recognised this vision. For me the most powerful thing about tattoos is an experience affecting someone so profoundly that, even if they can't vocalise it, it becomes a permanent feature on their skin. We put out an initial request for Band of Brothers and Sisters to share their tattoos and the stories behind them, and got an overwhelming response. Those who had been reluctant to open up suddenly started to share personal experiences and feelings, it was incredibly powerful.
Roger: As I got to know members of the Band of Brothers and Band of Sisters fellowship groups I noticed many had interesting regiment specific tattoos. Originally the idea, which surfaced during a brainstorming session with Alex Hodges [former Communications Officer at Help for Heroes], was to feature the tattoos to help people identify themselves with the photos.
Along with the accompanying text, the hope was that this would encourage people to come forward to ask the Charity for help, especially those with psychological issues. As the project progressed and beneficiaries agreed to participate in the project, the individual personal meanings of their tattoos developed the original concept into something in its own right – people were prepared to share their own stories behind the tattoos.

The photoshoot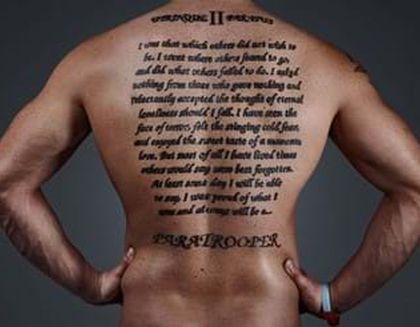 What was the photoshoot like?
Roger: It was great to see the concept evolve with the input of the participants and in the end it worked out better than I could have imagined. I always knew their tattoos were more than decoration, but to see in practice the effect and power the tattoos have on them in their everyday lives was humbling.

Alex: This seemed to be a very personal experience for many of our beneficiaries; revealing their tattoos and sharing the stories behind them. But Roger immediately put everyone at ease. He got such a genuine expression in each portrait, which is what makes the collection so strong.
Do you have a favourite photo from the shoot?
Roger: It's impossible to choose just one, I'm proud of the whole series!
What was the 'Together, Rebuilding Lives' journey like and how are you feeling now?
Alex: I'm so pleased we've pulled it off and the initial reaction has been brilliant. If this helps even one individual break their silence to reach out for support from a charity, a loved one or their GP, then it's all worth it.