The Conservative Party welcomed Help for Heroes to the annual party conference in Manchester to discuss how it will prioritise veterans at the next general election. This is the first time that the charity has held an event at this conference.

Our CEO James Needham hosted a reception attended by over 150 parliamentarians, local councillors, and party members, many themselves veterans, celebrating the contributions and sacrifices made by our Armed Forces personnel and veterans. Among the speakers were two key decision-makers on issues which affect veterans in Government.


Defence Secretary, Grant Shapps MP, was the first speaker to address the reception. As the most senior figure in the Ministry of Defence, he highlighted the party's long commitment to supporting those who have served in our Armed Forces, including the introduction of the Veterans' Railcard and the creation of the Office for Veterans' Affairs.


Health Secretary, Steve Barclay MP, also stated his commitment to ensuring that the NHS provides high-quality and ongoing healthcare to the veteran community, and that more is done to make sure veterans and service leavers access specialist healthcare pathways run by the NHS and service charities.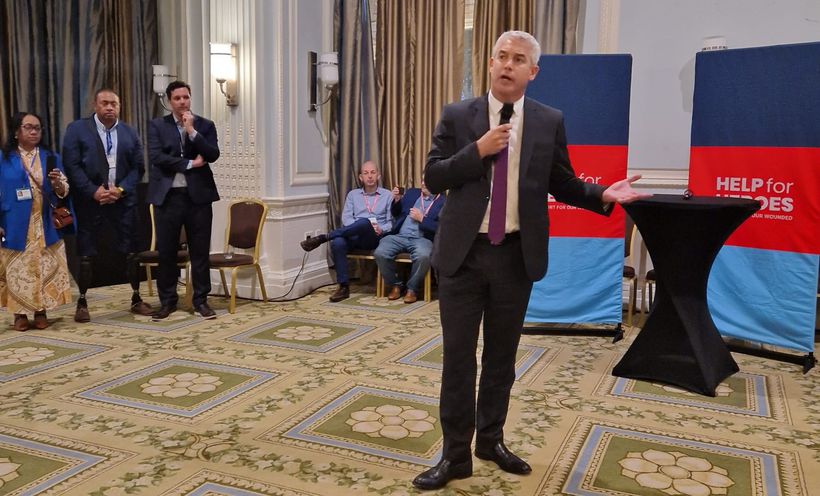 In between, veteran and Paralympian Derek Derenalagi, gave a very moving account of losing both his legs during a tour of Afghanistan after his vehicle was hit by an improvised explosive device.

He spoke about the importance of the support that Help for Heroes, and other military charities, provide to our wounded, including providing the prosthetic legs he needed to compete at the 2012 Paralympic Games in London, and what more needs to be done by the next Government.
Derek's wife Ana also read a powerful and moving poem that she had written earlier that day, on remembering and marking the sacrifices made not only by those whose who serve in our Armed Forces but also by their family members and loved ones.