Mike Kennedy, an injured Royal Navy veteran, has created a limited-edition, handmade cricket bat to raise money for Help for Heroes.
It was in 2008 serving in Iraq that Mike was caught up in a rocket attack. He sustained massive injuries to his lower back and spent the next five years in and out of rehab.
In a bid to forge a new career, Mike, an outstanding cricketer, received support from Help for Heroes to get back on his feet, regain his confidence and he began to shape his future in cricket.
"It was a combination of events that led me to making cricket bats. Whilst in recovery I was working in the timber industry and was managing an estate with some willow trees. I realised how much of a demand there was for it and began supplying companies, but then realised there's no reason I can't make cricket bats too. From this, World Class Willow was set up.
"Although there have been huge challenges in the last year, we were lucky in getting the bats into the right people's hands. Now we are in a position where we're sponsoring international cricketers and they're using my bats on the international stage. The feedback has been extremely humbling. It's amazing to think that's come around in some respect because of my injury."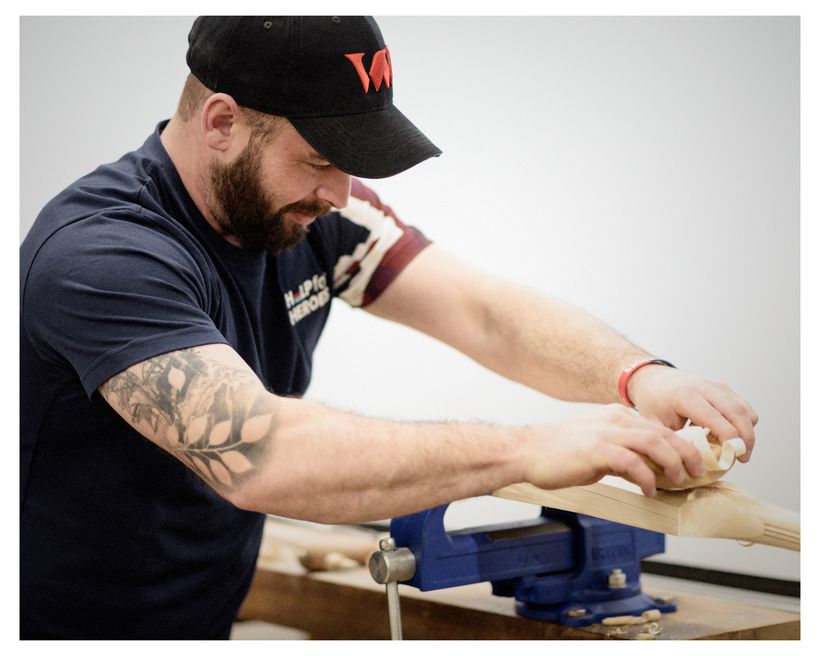 Cricket has long been a favoured sport of Mike's and he feared not being able to play again.
"When I got injured, one of my first thoughts was I'm never going to play cricket again. But through Help for Heroes I also got back to playing.
"I joined the Help for Heroes Cricket team. It has been an incredible journey and I've seen what cricket and the team itself can do for me and for others, and the potential it has to inspire people to take control of their lives and even give them the confidence to start a new career."
Mike has done exactly that and quite literally carved a career out of cricket using the skills and eye for detail that he honed in the Navy. According to many first-class cricketers, the bats are now very much considered world-class.
He now wants to give back to ensure others have the opportunities he has had.
"Cricket is very inclusive. That's the beauty of it and, regardless of your ability or any physical and mental health issues, there is a power in cricket and so much to gain from the game on and off the pitch.
"I want to see Help for Heroes still be around in generations to come. Whilst being involved with Help for Heroes Cricket I have seen lives changed and even saved!"
The limited-edition run of 100 Help for Heroes cricket bats from World Class Willow can be purchased at worldclasswillow.com/bats/help-for-heroes/. £10,000 will be donated to the charity, which will support more veterans, like Mike, on their recovery journey.