Hockey for Heroes' upcoming tour, 'Operation Last Post', will see sportsmen and women playing 54 games of hockey and undergoing 457 kilometres of endurance challenges in nine days, between 26 May and 3 June, as they look to raise £100,000 for the Charity.
The nine-day tour will see Hockey for Heroes (HfH) men's and women's squads compete against hockey clubs in eight locations, starting in Ben Rhydding, Yorkshire, and finishing in Portsmouth, Hampshire.
The squads will also take on various endurance and military challenges over 457 kilometres, which will include rowing, swimming, running a half marathon, a weighted speed march and a stretcher-carry march.
That figure of 457 has been chosen to recognise the 457 British service personnel killed during the war in Afghanistan, in acknowledgement of their ultimate sacrifice. The objective is to allocate each kilometre to every individual fallen hero from this conflict in remembrance.
Joel Forrester, who heads up HfH, said: "We are excited to embark on our next challenge, which is set to be bigger and bolder than ever before. This is the first time in our history that our two squads will combine for a tour, and it will be a special moment to see the whole organisation involved in such an occasion.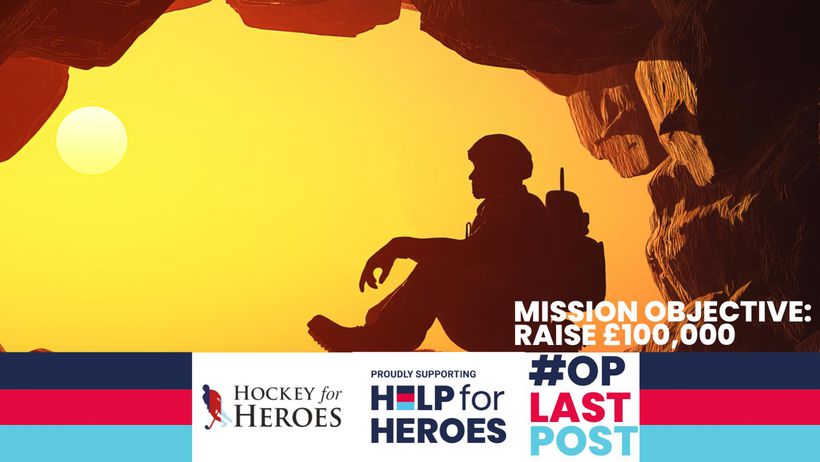 "The physical aspect of this event will test our squads to capacity, and the meaning of this tour is of even greater importance. Each day we will make a roll call of those we are remembering throughout that day, and this will be a truly humbling experience for many of our members. I am sure they can draw on this emotion and enable it to fuel them to success.
"We hope the hockey and wider community will support this event and help us to shed light on the true and rarely spoken-of sacrifice made by many to ensure our freedom today."
Our Area Fundraising Manager, John Carpenter, added: "Sport is in the Charity's DNA. And the support and fundraising that HfH has done since 2011 has been truly inspirational, and we are immensely grateful for their efforts.
"They have raised more than £120,000 between 2017 and 2019 in three events through a range of exceptional endurance challenges, combined with endless hockey matches and inspiring fundraising activities at clubs around the country. This is an amazing achievement and demonstrates the sheer dedication of everyone in the team."
Founded in 2011, HfH combines physical endurance exertion with field hockey, creating a community that cares and gives back to an important charity in the UK while playing sport. Since its founding year, HfH has raised a total of more than £350,000.
Together with Lincoln Minster School, HfH gained a Guinness World Record in 2019 - see video above - for playing the highest game of field hockey at 5,019 metres above sea level in Nepal.
For sponsorship opportunities, please contact Joel.Forrester@hockeyforheroes.co.uk.

For the latest news and updates on Operation Last Post, follow Hockey for Heroes on Instagram, Twitter and Facebook, or follow the hashtag #OpLastPost.