Help for Heroes and its partner agency, Blue Array, have scored a fantastic achievement by scooping an SEO award at the European Search Awards ceremony.
The European awards reward and celebrate the very best companies and people working in Pay Per Click (PPC), Search Engine Optimisation (SEO) and content marketing.
They are a true testament to a team's dedication, creativity and expertise, and a chance to shout about virtuosity, boost stature, connect with a greater audience and bring in new business.
The Charity and its partner agency were among hundreds of entrants selected by the judges for the European Search Awards shortlist, and then went on to win in the category BEST USE OF SEARCH – THIRD SECTOR / NOT FOR PROFIT (LARGE). The shortlist featured some stiff competition, including Cancer Research UK and Drinkaware.
The judges were industry leaders from across Europe, and were hand-picked for their expertise, insight, and experience. The judging method was a rigorous two-stage process, which examined every aspect of a campaign, from concept to application, to audience experience, and to profitability.
Finally, the judges met to discuss the highest-scoring entries and agreed that the Charity's entry – 'Growing awareness organically' – was the category winner.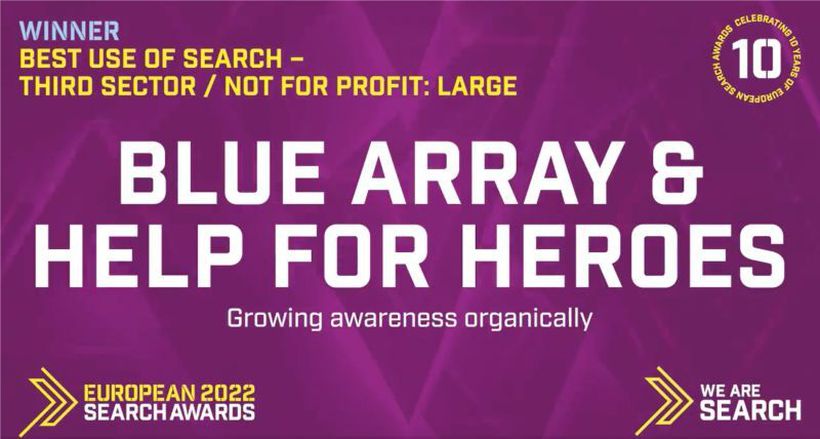 The European Search Awards' success is the first of its kind for the Charity and highlights the successful work it has undertaken with Reading-based Blue Array.
On receiving the award, Duncan Mizen, Digital Marketer for the Charity, said:
"I'm absolutely delighted. This award is the icing on the SEO cake for us. Blue Array has done some excellent work with us over the past year and is a great partner, and this award is testament to that partnership."
Mike Stepney, SEO Director of Blue Array (the Charity's SEO partner) said:
"During Covid-19, search volume for charity fundraising reduced significantly. This meant, like for many charities, a dramatic decline in donations. We knew the task wouldn't be easy, but we also knew this was no time to take the foot off the pedal.

"During this period, we implemented a number of technical changes and expanded onsite content. Laying the groundwork for when demand would return was crucial for the charity.

"We are pleased to have been recognised by the European Search Awards for our SEO efforts, but it wouldn't have been possible without the drive from the Help for Heroes team."