A 22-year Army veteran, from Andover, who went from running marathons to being unable to walk in nine months, has hailed the Charity's care, saying "I wouldn't be here now if it wasn't for your support".
David Buddle, 71, finished his career in the Queen's Regiment, 2nd Battalion (Queen's Own Buffs), in 1992, as a Warrant Officer. He was still a very fit man, participating in rock climbing and running, playing rugby for the Army and football for the Combined Services. However, his life started to change dramatically, when, in 2010, he started to stumble while he was walking.
He recalled: "At first, I didn't take much notice. I just thought it was me being lazy and not walking correctly. In about 2015, the doctor gave me anti-inflammatories and an ibuprofen course, as I had lots of pains in my legs.
"Two years later I had a major stomach bleed; the main arteries to my liver collapsed, and they said it was because of the high quantity of ibuprofen and anti-inflammatories I was taking. I was told I was lucky to survive. At one stage I lost five pints of blood; blood everywhere, all over the house. it was horrible."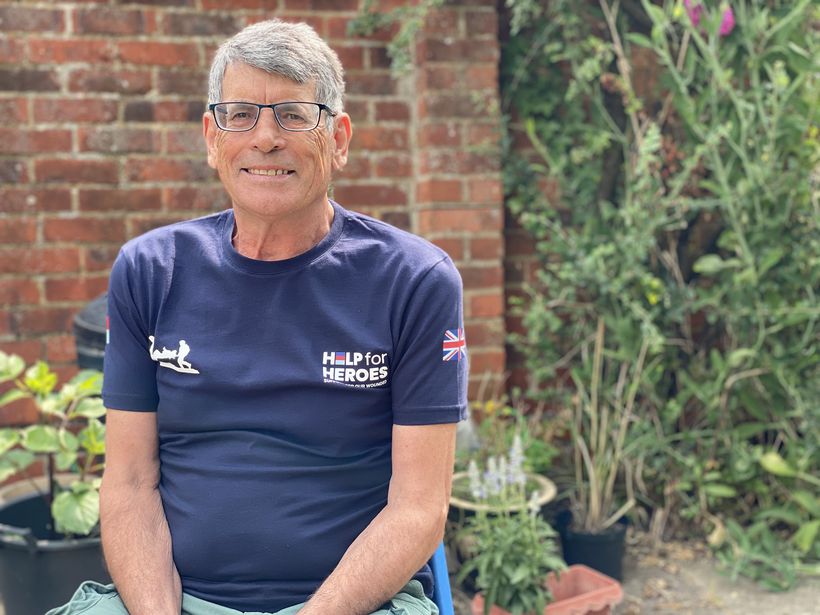 FROM RUNNING TO CHRONIC PAIN
David was referred to a specialist in Southampton's neurological department in late 2017, where he was told he was suffering from CMT – Charcot-Marie-Tooth disease – a nerve and muscle reduction condition. And, two years later, his condition started to deteriorate badly. He couldn't walk properly or use his hands.
He said: "My nerves were exposed to germs and deteriorating. So, in nine months I'd gone from running a marathon to not being able to walk and in chronic pain."
Not surprisingly, such a rapid deterioration in his physical condition also took a toll on his mental health.
He added: "I didn't know what to do. About 2019 I was trying to get help because my mental health was suffering as well. I couldn't accept why I'd been given this disease. Why me? I wasn't sleeping, I was in chronic pain. I couldn't get anybody from the NHS to help get me out of my dark place.
"I was getting increasingly frustrated and annoyed; I was thinking 'what's the point of being alive?' and being difficult for everybody. I was in a horrible dark place.
"I couldn't see the next day. But I didn't have the guts to take my own life. I did think about how to do it. I'd got to the point with the NHS, that I felt if nobody can help, what's the point in carrying on. I'm lucky I didn't go past that point."
ON COURSE FOR RECOVERY
But help was on the horizon, and, in November last year, he was referred to our Case Manager Nikki King.
"From January this year, I've undertaken several courses – the art of sleeping; anxiety; and living with, and beyond, pain. I've also taken a course with Patricia in the Hidden Wounds team for my mental health.
"With the support of Nikki, Patricia and these courses, I suppose you could say I've been dragged back to my normal self. I reckon I'm 90 per cent better than I was before. I'm beginning to understand what life's about.
"I'm still suffering from chronic pain, obviously, but I'm now able to manage it and control my mind, when I feel myself starting to slip down again. I can't praise Help for Heroes highly enough for what they've done for me – and my family."
David can move around his house, as he is able support himself on furniture. But walking is limited to the 20 or so yards to his car on the drive. Further than that and his legs give way. He's unable to walk with sticks as the disease has affected his hands, wrists, and arms. He admits he can't even open a packet of crisps.
"If it hadn't been for the (chronic pain support group) meeting I attended I would never have approached Help for Heroes," he admitted.
"I wasn't aware of the breadth of services and support it offers. If I hadn't got the help and support from Help for Heroes, the way I was feeling back in December, I don't think I'd be here now. I would have taken my own life eventually. I didn't want to be a burden on my family.
"But I'm here, now, and I can't thank Help for Heroes enough. They're still there for me now and in the future. They've made such a difference to my life."
Now, David is hopeful his story might persuade other veterans in need of help and support to come forward and contact us – or get a family member to do it for them.