One of our ambassadors who served as a nurse in the Falklands War received a prestigious peace award during a trip to Argentina to mark the conflict's 40th anniversary.
Sue Warner was among a small UK delegation invited to Buenos Aires. During a two-week trip she met Argentinian veterans, including nurses, and British veterans who served in the war.
Towards the end of her stay, Sue was contacted by the artist and sculptor Juan Carlos Pallarols who said he wished to present her with his Rose of Peace Award.
"It was a real surprise and honour to receive this award and it touched me deeply," said Sue.
"Over the years Juan has given the Rose of Peace to quite a few dignitaries, including Their Royal Highnesses, the Prince and Princess of Wales.
"Juan has devoted his life to peace and he makes the roses out of bullets and shrapnel from the war. He gives the rose to those who have worked for peace. It was touching to be a part of that.
"The ceremony was at his home, and during it my portrait was drawn. Everyone who has received a Rose of Peace award has left a message in a book.
"My portrait went in the book and underneath I wrote a few words, to commemorate peace and to say how much I wanted peace to touch all hearts, and that we should always take a moment out of our daily life to reflect on and remember peace."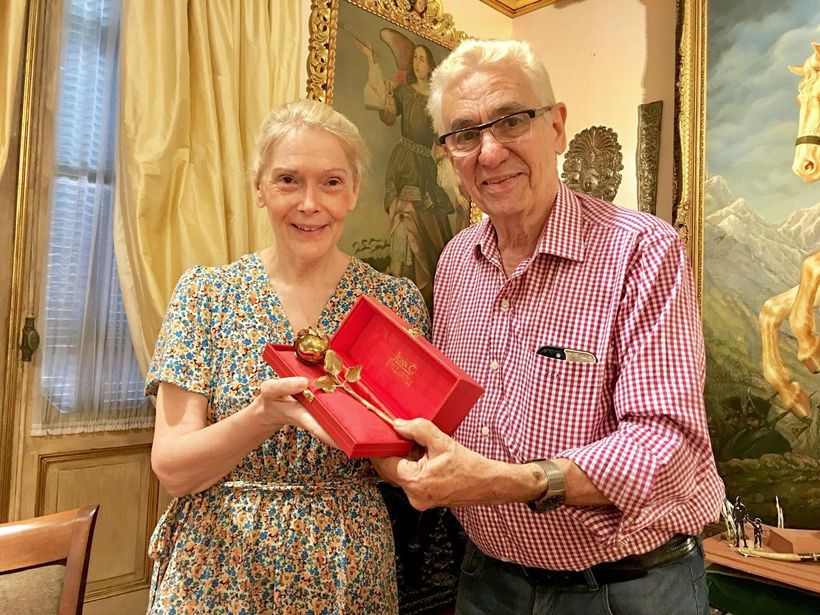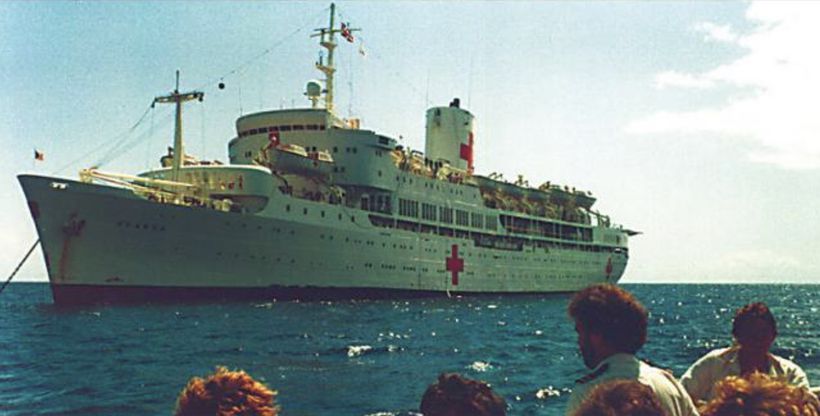 Promoting peace
Sue served on the hospital ship the SS Uganda during the conflict from 2 April to 14 June 1982, where she treated badly wounded British and Argentinian men. She was 23 years old when the war broke out.
During the recent trip, commemorative ceremonies were held to remember the 649 Argentinian and 255 British military personnel, as well as the three Falkland Islanders who lost their lives.
Sue, who also sings in our Choir, visited the British-Argentine Hospital Británico, that has been in Buenos Aires since 1844.
"At the closing ceremony at a church in a place called Lujan, we were given a guard of honour which was very touching. Everyone held a candle to promote peace, which was particularly poignant in the light of the war in Ukraine and what everyone has been through with the pandemic.
"The atmosphere between the Argentinian and British delegations was very positive and optimistic, but there was also sadness at the loss of life and because people have had to rebuild their lives after the conflict.
"One Argentinian veteran told me that he stopped being a fighter pilot after the war and has devoted his life to being a helicopter pilot who rescues people.
"There was a lovely feeling that people had reflected and said to themselves 'there's a lot more to life and we must live life to the full, in the best way we can'.
"I will keep in touch with people I met out there. I think it is important to build on those friendships and relationships."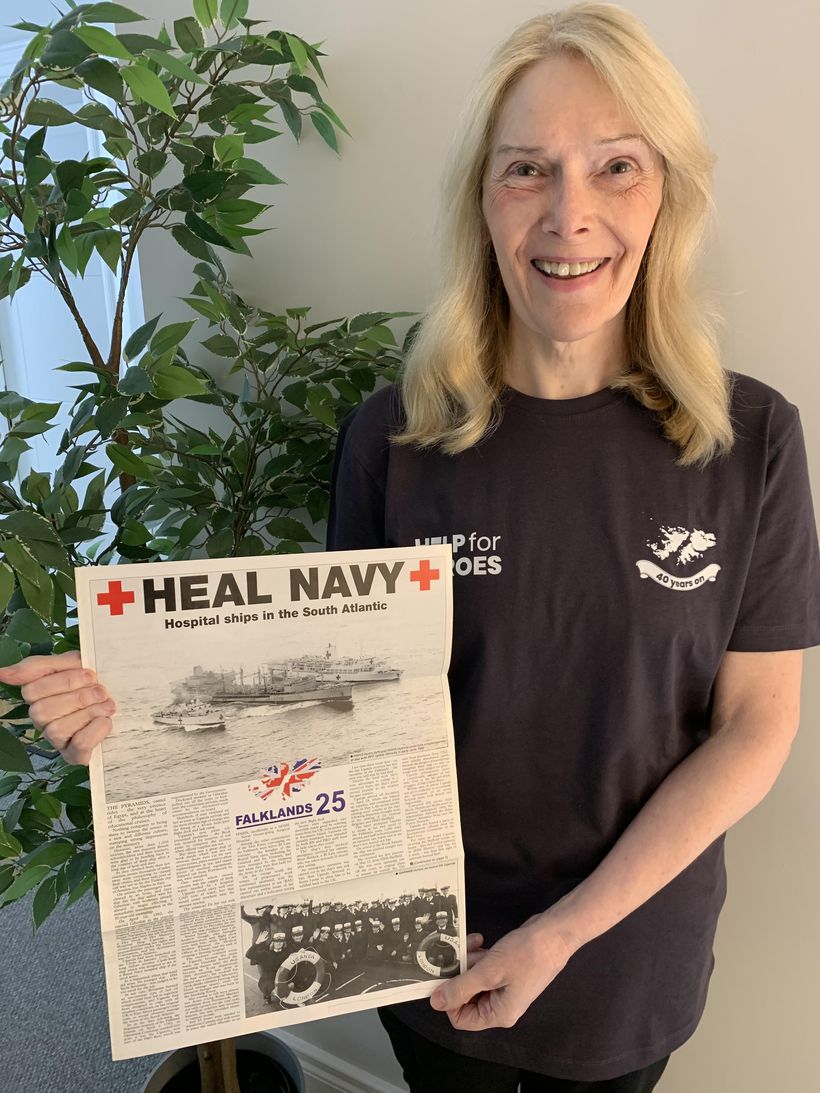 A veteran is a veteran no matter where in the world they are from
"The highlight was catching up on what happened to people after 1982, hearing about marriages, children, and grandchildren. It was poignant, with people sharing they had been through depression or traumatic experiences, such as PTSD, or had wounds or injuries that still needed to be looked after.
"People spoke a lot about the loss of the fallen, of the pain and the hurt. And really, you realise a veteran is a veteran no matter where in the world they are from, the issues are very similar, the pain of loss, homelessness, unemployment, trying to rebuild your life after an experience of conflict.
"It really touched my heart, like it does when I see our own veterans like that."
If you served in the Falklands War and think you could benefit from our support, please get in touch. We help veterans no matter where or when they served, and we can help with a range of physical and mental health issues, welfare support, and a whole lot more.