For Tommy Lowther, the thought of one day launching his own business for injured veterans was a dream far out of reach. For over 15 years he battled PTSD demons which brought him to the brink of suicide. Yet those closest to him now describe him as "an inspiring character with a massive heart". So it is hard to fathom, why, for so long, he felt worthless and thought his destiny was to end up in a wooden box six feet under the ground.
Having grown up in a small town in County Durham, he described how he felt like "a boy in a man's world" when he was posted to Northern Ireland at just 18 years old.
Serving with the Fifth Battalion Light Infantry, Tommy described how every day he would run on adrenalin and lived in relentless fear for his life. He faced a constant stream of petrol bombs, bottles, bricks and burning tyres being thrown.
One moment still lives with him vividly; the day he was set on fire.
"I was leaning against a crowd control obstacle with my armadillo shield and a petrol bomb came towards me. I was dowsed. I remember opening my eyes and seeing flames lick up underneath my visor. I got pulled into the crowd, stamped on, kicked and punched. It was terrifying, it felt like an eternity.
"At 18, it puts a lot of things into perspective. The hostility, that alone is frightening. I certainly had my eyes opened."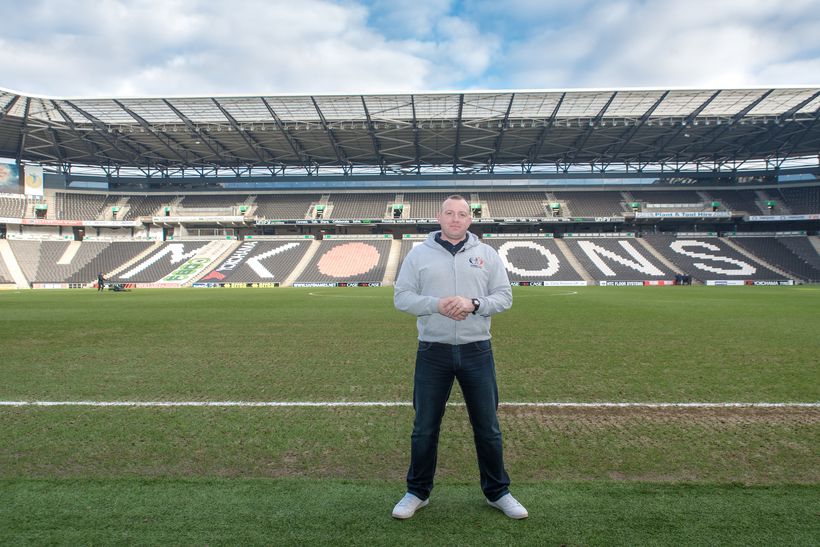 Little did Tommy realise, his worst experience was still to come when he was sent on exercise in Gibraltar. Here, he suffered an event which had a devastating lasting effect; he was sexually assaulted.
"When it first happened, I was really, really embarrassed. I was disgusted in myself and didn't want to tell anyone. That is when the PTSD wheels started moving."
Tommy quickly went from being outgoing and bubbly to being aggressive, moody and suffering flashbacks.
"I just went into a shell" he explained. "I knew my behaviour was wrong but I couldn't do anything about it."
Things became so bleak that Tommy felt suicide was his only option.
"PTSD is a way of life and it's a dark and scary place. You genuinely feel like the world would be a better place without you. I couldn't see how to get past it. I thought I'd do the world a favour."
With his PTSD all-consuming and his mind trapped in past horrors, Tommy lost his first job after leaving the military. However, they persuaded him to get in touch with Help for Heroes which is when things started to change.
He visited Phoenix House Recovery Centre in Catterick and broke down in tears talking to a Support Hub Keyworker, which he said was a "relief". The real turning point however was being placed onto the Pathfinder course.
"Pathfinder literally saved my life" he said. "It didn't pull me out of the hole. It gave me the tools to pull myself out of the hole."
It flipped from PTSD having a hold of me to me having a hold of PTSD. I wasn't going to let it control me anymore."
Tommy, like all Pathfinders, was matched with a civilian mentor, Martin Dewhurst. Martin explained: "Tommy is an inspiring character with a massive heart. Knowing I have made a difference in his life is massive for me. We are on this path together and I am very proud to be walking alongside him."
Thanks to Pathfinder, Tommy's own business Sporting Force was born. Working in partnership with professional sport clubs, it offers work placements to wounded, injured and sick veterans. This could be in hospitality, marketing, ticketing, coaching, physio and more. Sporting Force already has links with Premiership Clubs including Liverpool and Everton, as well as other Championship and League One clubs such as MK Dons, QPR, Reading and Leeds.
Tommy said: "If it hadn't been for Help for Heroes and Pathfinder, Sporting Force would never have taken off. It has changed me for the better and brought me much closer to the man I used to be.
"I never thought I'd be where I am now. For the first time in a long time, I'm proud of myself."
Pathfinder provides wounded, injured and sick veterans with tools, support and time to help them successfully transition into their civilian life. The 3-phase programme (Inspire, Enable, Support) helps veterans learn more about themselves, develop skills and identify new opportunities.
Tel: 01980 844257
Email:career.recovery@helpforheroes.org.uk